Tuckahoe Presbyterian Youth Ministries
The purpose of our Tuckahoe Youth Groups are to create lifelong disciples of Jesus Christ through fostering intentional relationships, providing opportunities for thoughtful study, making space for passionate worship and orienting lives toward participation in God's mission to the world. We also like to have fun.  We meet each Sunday, September – May,  from 5:30 – 7:00 p.m. in Duntreath Hall for programs and dinner.
Activities in Youth Group
Bible studies
Sunday school classes
Weeknight gatherings
Outreach events
Service projects
Retreats
Mission trips
Church immersion opportunities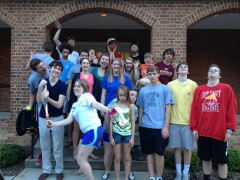 We encourage Middle and High School students in their growth toward a lifelong relationship with Jesus Christ.
In addition to our regular weekly meetings, we have also cared for others through service projects including leaf raking, preparing meals for CARITAS and the Freedom House, and partnering with our Outreach Committee to engage in mission work.
Warinner Family Scholarship Fund
The Warinner Family Scholarship Fund (WFSFund) will provide assistance to one selected youth per calendar year who are members of Tuckahoe Presbyterian Church prior to the date of the award. The assistance will be a merit based lump sum grant paid directly to a qualified institution.
Applicants will be responsible for submitting a application form which will demonstrate that they are active in the life of Tuckahoe Presbyterian Church. The application and associated other forms are available from the youth advisers, or from the Church office, or via this links below:
WFSF Scholarship Recommendation Form 2017
The application must be received by the WFSF Nomination Committee by February 28th of the award year.
Recipients of WFSF grants are responsible for submitting an annual renewal form. The renewal form must be received by the WFSF Renewal Committee by February 28th of the renewal year.
The WFSF grants are merit based scholarships.