Children's Ministries
Jesus said, "Let the little children come to me, and do not stop them; for it is to such as these that the Kingdom of Heaven belongs." – Matthew 19:14
Adults and children of all ages are on the Christian journey together. At Tuckahoe, children learn that the church is a place where they belong, are loved, have friends, and find important service to do, all with the grace and love of God at the center.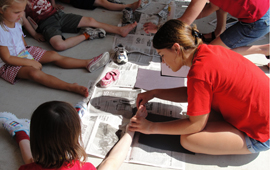 Sunday Mornings at Tuckahoe
Sunday School
Our children's Sunday School, from 9:30 – 10:40 during September through May, welcomes children age 2 years old through 5th grade. This year the children and their leaders are exploring The Story curriculum.   For children younger than 2 years old, nursery care is provided during this time to allow parents to attend adult Sunday School classes and/or volunteer to help in children's Sunday School.  Each Sunday  the children participate in Children's Choir with our Director of Music and his assistant.  They learn age-appropriate anthems which will be performed during worship throughout the year. Visitors are always welcome!
Worship
Children of all ages are welcome and encouraged to participate in the worship service, held at 11:00 a.m. from September through May, and at 10:30 a.m. during the summer. Children's worship bulletins and crayons are provided at the table near the narthex. There is a brief children's sermon, "Moments with the Children", held during every service, after which time children age 1st grade and younger may opt to go to the nurseries or, October through May, to Children's Church. All children are welcome to stay for, and fully participate in, the entire worship service.
Nurseries
Our nurseries include three age groups:
Infants through 23 months old, from 9:30 a.m.-12:10 p.m., during Sunday School and worship. This group is staffed by our paid caregiver and a volunteer assistant. Summer hours are 10:15 a.m. – 11:45 a.m.
2 and 3 years old, from 10:50 a.m. – 12:10 p.m., during worship. This group is staffed by adult volunteers and youth helpers. Summer hours are 9:50 a.m. –11:10 a.m.
4 years old through 1st grade, from 11:25 a.m. – 12:10 p.m., following "Moments with the Children" in worship, this group is staffed by adult volunteers and youth helpers. Summer hours are 10:50 a.m.-11:40 a.m.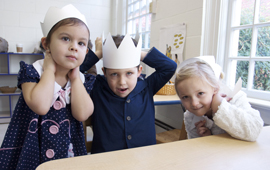 Wednesday Evenings
On Wednesday evenings from mid-September through May, adults and children of all ages come together for dinner and fellowship at 6:00 p.m.  Following dinner, a bell choir for children rehearses and a program is provided for younger children.
Special Events and Classes
Parents' Night Out
Held occasionally, throughout the year, an evening of food and fun for children!
Christmas Pageant
Every year, children from our Sunday School, in addition to youth and adults, participate in our Christmas pageant, held during the Christmas Eve Family Service on Christmas Eve at 4:00 p.m. in the sanctuary.
Vacation Bible School
Our annual Vacation Bible School, held in mid-July, welcomes children from our congregation and throughout the community for a week of fun, fellowship, and valuable lessons from the Bible that can last a lifetime.
We invite children age 3 years old through rising 5th grade to participate in VBS programming. There are plenty of opportunities for both youth and adult volunteers, many choosing to help with VBS planning and preparation, and many choosing to help during the week.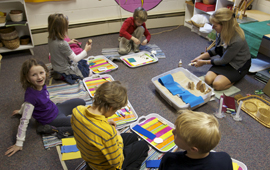 Bell Choir
This group is called KMDs, or "Kids, Moms , and Dads" is made up of children age 2nd grade and up, and their family members. It is led by our Director of Music, Mark Cain. This is a wonderful way to praise God and participate in worship!  They practiced at 6:45 p.m. on Wednesdays, September – May.
Please join us in the life of the Tuckahoe church family! For more information, contact the Director of Christian Formation, Sarah Dennis.