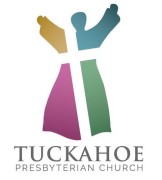 The figure is a representation of Jesus Christ and of us as the Body of Christ. Our life is in him, and so the figure is stylized to capture both male and female (Galatians 3:28). Primarily, it is a reflection of our mission statement: Called by God to be the heart, voice, hands and feet of Christ where the Spirit leads us. And so, the arms raised in celebration and victory symbolize our joyful response to this calling. The cross captures Jesus' words that anyone who wants to be his disciple must take up their cross and follow him (Matthew 16:24, Mark 8:34). The cross segments the body in four quadrants, capturing the four primary seasons of the church year.
Blue is a primary color of Advent. It represents a somber tone, a yearning during the season when we expect Jesus' coming both as an infant and his return in victory. The blue tone, capturing the head of the figure, is also a reminder of our baptism, where our Christian journey begins.
Gold is the color of victory and celebration.  During Christmas, it captures the joyous celebration of Jesus Christ's birth. It is also a color for Easter, emerging from the dark tones of Lent and Holy Week, it shines forth to remind us of Jesus' victory over sin and death. In Psalm 98 verse one we read, "O sing to the Lord a new song, for he has done marvelous things. His right hand and his holy arm have gotten him victory". And so, the right arm of the figure captures this refrain of victory for the people of God of all times and places.
Green is the color of Ordinary Time. This time follows Epiphany until Lent, and then again after Pentecost until Advent. "Ordinary" does not mean mundane, rather "ordinal" is counting. This, the longest season, is a time to be growing in the Spirit, it is a time that requires "walking" our faith, and so that is why this color is on the lower part of the figure.
Purple is the universal color for Lent (and also an alternative for Advent). The color is to represent movement toward darkness, with the somber tones to remind us of the Passion of Jesus Christ. It is also the color of royalty to represent the reality of Jesus' kingship. The purple on the lower part of the figure reminds us of the journey motif of Lent. Jesus journeyed for forty days in the wilderness, so we are to be on a spiritual journey of trial and testing during this season.
Finally, the white cross unites the seasons and reminds us of the days and seasons of high holy celebrations: Christmas Eve through Epiphany, Transfiguration of the Lord, Easter through Trinity Sunday (exception Day of Pentecost which is red), and finally Christ the King or Reign of Christ Sunday.